1: Are you interested in Zombie games?
Very interested. Played a lot of games of this kind.
Quite interested. Watched many zombie movies and TV shows.
Just OK.
Not interested.
2: Please rate the following Heroes.
Not at all.
General.
My favourite!
Reason (Optional)

3: Which of the following hero groups do you like the most?
1
2
3
4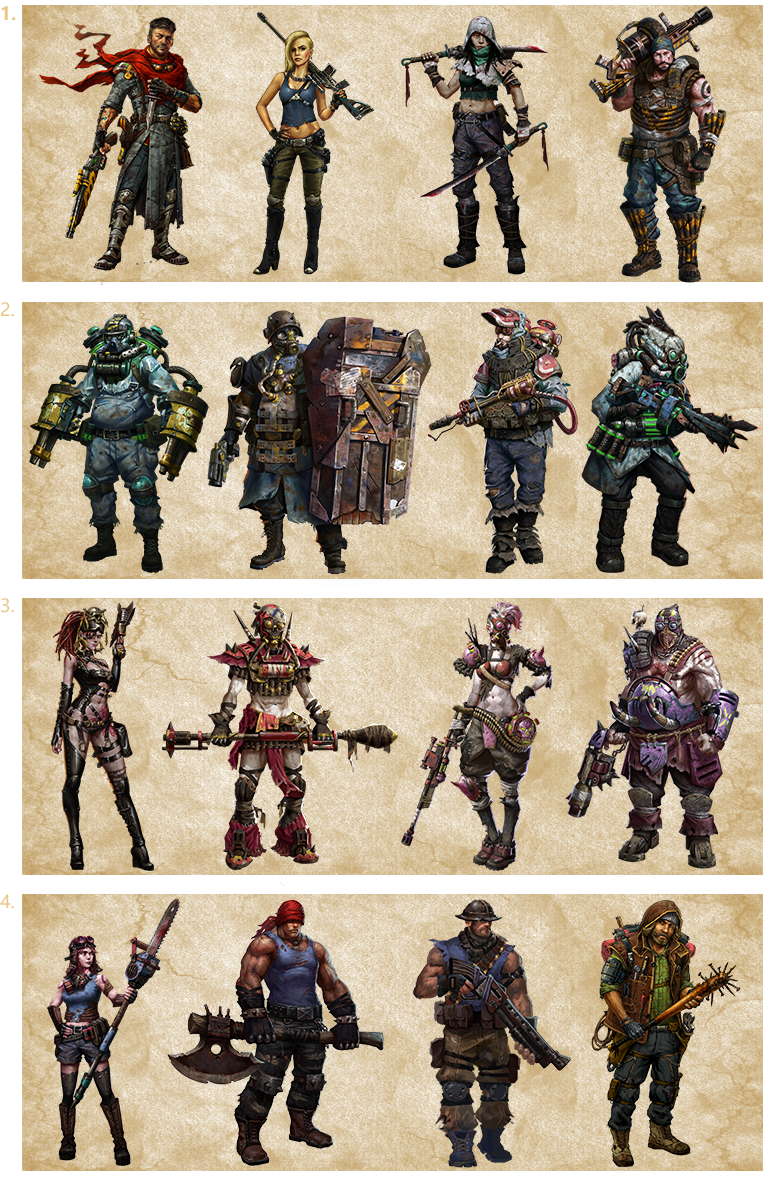 4: How long do you spend playing games every day?
Less than 1 hour.
1-3 hours.
3-6 hours.
More than 6 hours.
5. For how long can you play an SLG game?
One month.
Half a year.
One year
More than a year.
6: What is your ranking when you play SLG games?
1-100.
100-500.
500-2000.
After 2000.
7: Which do you like most in games? (Can chose two.)
Play with friends.
Attack other players and win.
Get equipment, items and rewards through dungeons.
Develop your own city.
Interesting main story.
8: (Multiple Choice) What apocalyptic movies or TV series have you seen?
Resident Evil
Walking Dead
Mad Max
The Maze Runner
The Hunger Games
World War Z
I Am Legend
Dead Rising
28 Weeks Later
The Road
(Can fill in or not.) Others
9: (Multiple Choice) What kind of games do you play most frequently?
MOBA (LOL, DOTA2)
Action Games (God of War, Devil May Cry)
Survival Games (PUBG)
Strategy Games (Clash Royale, Clash of Clans)
Simulation Games (Farm, Restaurant)
Card Games (Hearth Stone)
Tower Defense Games
Casual Games
10: (Multiple Choice) Why would you leave a game?
It's too difficult.
Intense competition, power gap among players is too big.
Expensive items. Need to pay too much.
Ingame friends do not play anymore.
Don't have time.
Bugs.
11: What will make you want to log in again?
Higher levels and new functions.
Friends.
Alliance events.
Items and rewards.
12: (Multiple Choice) What do you want to know from our official website and fan page?
The latest news and updates from the game.
Game guides like system introductions, exclusive strategies, etc.
Discussion of characters and plots.
Others (Optional)
13: (Multiple Choice) Where did you know Survivor Legacy?
Facebook advertisement
Facebook fan page
Youtube
Twitter · Game media recommendation · Other advertisement · A friend's recommendation
Others (Optional)
14: (Multiple Choice) Which SLG games have you played?
Clash of Clans
Last Shelter: Survival
King of Avalon: Dragon Warfare
Rise of Kingdoms
Guns of Glory: Empires Conquer
Age of Z
Boom Beach
Game of Thrones Winter is Coming
Clash of Kings
Game of War - Fire Age
Vikings: War of Clans
Z Day: Hearts of Heroes
Sparta: War of Empires
Others (Optional)
15: (Optional) Comment below if you have any suggestions about the game
Please leave your email address and we will send you an invitation to the closed beta: